FlightOps Ltd., a leading multi-drone operating system (OS) provider, today announced a significant commercial agreement with DroneUp, a major drone
img#mv-trellis-img-1::before{padding-top:66.7%; }img#mv-trellis-img-1{display:block;}img#mv-trellis-img-2::before{padding-top:66.65%; }img#mv-trellis-img-2{display:block;} Drones have come a long way since their debut as children's toys at Hobby Lobby or RadioShack. Today, drones are used in almost every industry, including survey-grade data collection, and that's not going anywhere anytime soon.  You'll need mapping software to process the data you've collected, and
Read or listen to all of the headlines in one place: excerpts from the DRONELIFE drone news of the week, September 9. Click on the titles below for the full story. Continue reading below, or
img#mv-trellis-img-1::before{padding-top:151.05882352941%; }img#mv-trellis-img-1{display:block;}img#mv-trellis-img-2::before{padding-top:66.712141882674%; }img#mv-trellis-img-2{display:block;}img#mv-trellis-img-3::before{padding-top:133.25471698113%; }img#mv-trellis-img-3{display:block;}img#mv-trellis-img-4::before{padding-top:66.666666666667%; }img#mv-trellis-img-4{display:block;}img#mv-trellis-img-5::before{padding-top:115.29411764706%; }img#mv-trellis-img-5{display:block;} The original DJI Mavic and a few of its subsequent lines of foldable drones used an interesting design for quite a while. This version of the controller had a
ANRA Technologies, in collaboration with ideaForge and Asteria, conducted the first ever flight trials incorporating new technology that permitted live tracking of drones via the internet, helping to address Indian government safety and security concerns.
Bullshark DroneFlyer Productions
Coming Soon!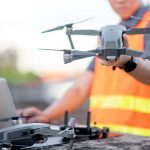 Check us out under DroneFlyer.com on Socials
LinkedIn, Twitter, YouTube (soon)
Utah Wildlife Officers Set Up Drone Team
Hamilton County, OH Sheriff switches from copters to drones!
Image courtesy Drone Racing League, used with permission. Drone Racing League Partners
The Drone Racing League (DRL), the world's premier professional drone racing property,
Alauda Completes 250th Test Flight for its Airpeeder Flying Car Racing Series
Drone Racing League SIM Tryouts Tournament Now Open by DRONELIFE Staff Writer